As a Graphite Electrodes Supplier, share it with you.

Graphite electrodes are heavy and very slippery. When handling, you should always be cautious. The following points are provided as suggestions.
When unloading the pallet when receiving the goods, unloading a single electrode or transporting to EAF, care should be taken to ensure safe lifting.
When lifting a single electrode with a crane or forklift, workers should leave a safe distance away from the load. Use rolling blocks/plugs to prevent the electrodes from rolling uncontrollably.
During storage, please reduce the height of the paper stack as much as possible to avoid instability. For the maximum height for safe storage, please consult the engineering or warehouse management department.
During use, the electrode and/or electrode column may fall or swing, causing potential personal injury or equipment damage to the operator. Therefore, GES-AGM recommends the following: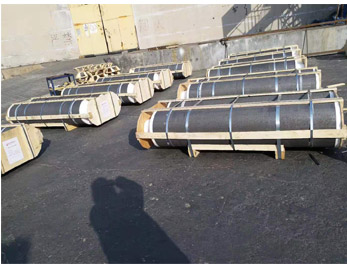 Graphite Electrodes
Do not use any electrodes with damaged or broken threads or end faces.
When connecting, first clean the joints by blowing air to ensure clean surfaces and threads. To prevent the fittings from getting dirty, use column caps.
When moving the electrode to or from the EAF, please avoid lifting the socket area by fixing the electrode body inside the designated socket restriction strip marked on the electrode body.
Center and tighten the electrode with a proper wrench and specified torque. Do not use any electrode column with loose connections.
Please note that since graphite has good electrical and thermal conductivity, the electrodes may get an electric shock or cause burns.
During the operation, all workshop safety regulations should be observed and a safe distance from the furnace should be kept. If you need to enter the EAF area, please always wear heat-resistant protective clothing, gloves/face and eye protection, etc.
When disposing of damaged or used electrodes, please follow the following precautions:
When removing the electrode from the electric furnace, use a chain or pliers to fix the electrode. Do not use a wire rope lifter, as that will cause the electrode to slip off.
While lifting the electrode, keep a distance away from the suspended electrode and the path of travel.
When cutting broken electrodes, please use dust masks/goggles and dust collectors to avoid generating fine dust, which may be harmful to the lungs and eyes due to inhalation and adhesion.
If there are any signs of physical discomfort, please contact an emergency and/or doctor.
Take care to avoid slipping in areas where graphite dust is present. Do not step on any exposed wet electrodes.
Even if it appears black, the electrodes may be too hot to touch. Do not leave any combustible materials in the broken electrode yard.
Our company also has Graphite Electrodes on sale, welcome to contact us.